Prep Time: 30 minutes
Cook Time: 20 minutes
Total Time: 50 minutes
Ingredients
1 tsp active dry yeast
1 cup warm water (110-110 F)
1 tablespoon sugar
1 tablespoon melted butter
½ teaspoon salt
3 to 3 1/2 cups flour
2 cups water
4 tablespoon baking soda
2 tablespoon coarse sea salt
3 tablespoon melted butter
For Beer Cheese Sauce
8 oz Hall's Beer Cheese (Your choice of Original or Hot 'n Snappy)
4 tablespoons of half & half
Add additional cayenne pepper to make a hotter spicier sauce
Instructions
Heat oven to 450ºF.
Line 2 baking sheets with parchment paper.
In a small bowl, combine the warm water, yeast, and sugar. Let it sit for 5-10 minutes until frothy.
Mix the salt and 1 T melted butter into the yeast mixture. Gradually mix in the flour until you can form a ball and the dough is no longer sticky.
Knead the dough for 5 minutes on a lightly floured surface until smooth.
Place the dough back in the bowl and let it rest for 15 minutes.
Meanwhile, boil the water adding the baking soda stirring until dissolved.
Remove from heat. Remove dough from bowl and divide into 8 sections.
Roll each section into a 12-inch rope.
Cut the rope into 12 one-inch bites.
Bring water to a boil and place enough bites, each being completely submerged in the water, for 20 seconds. Remove bites from the boiling water using a slotted spoon placing them on the parchment-lined baking sheets.
Sprinkle each bite with coarse salt while they are still wet. Repeat with all bites.
Bake for 10 minutes or until golden brown.
Brush with melted butter upon removing the bites from the oven.
While the bites are baking, place beer cheese and half & half in a microwave-safe bowl and heat for 30 seconds at a time, whisking every 30 seconds until cheese is warm. Serve with warm beer cheese sauce.
Summary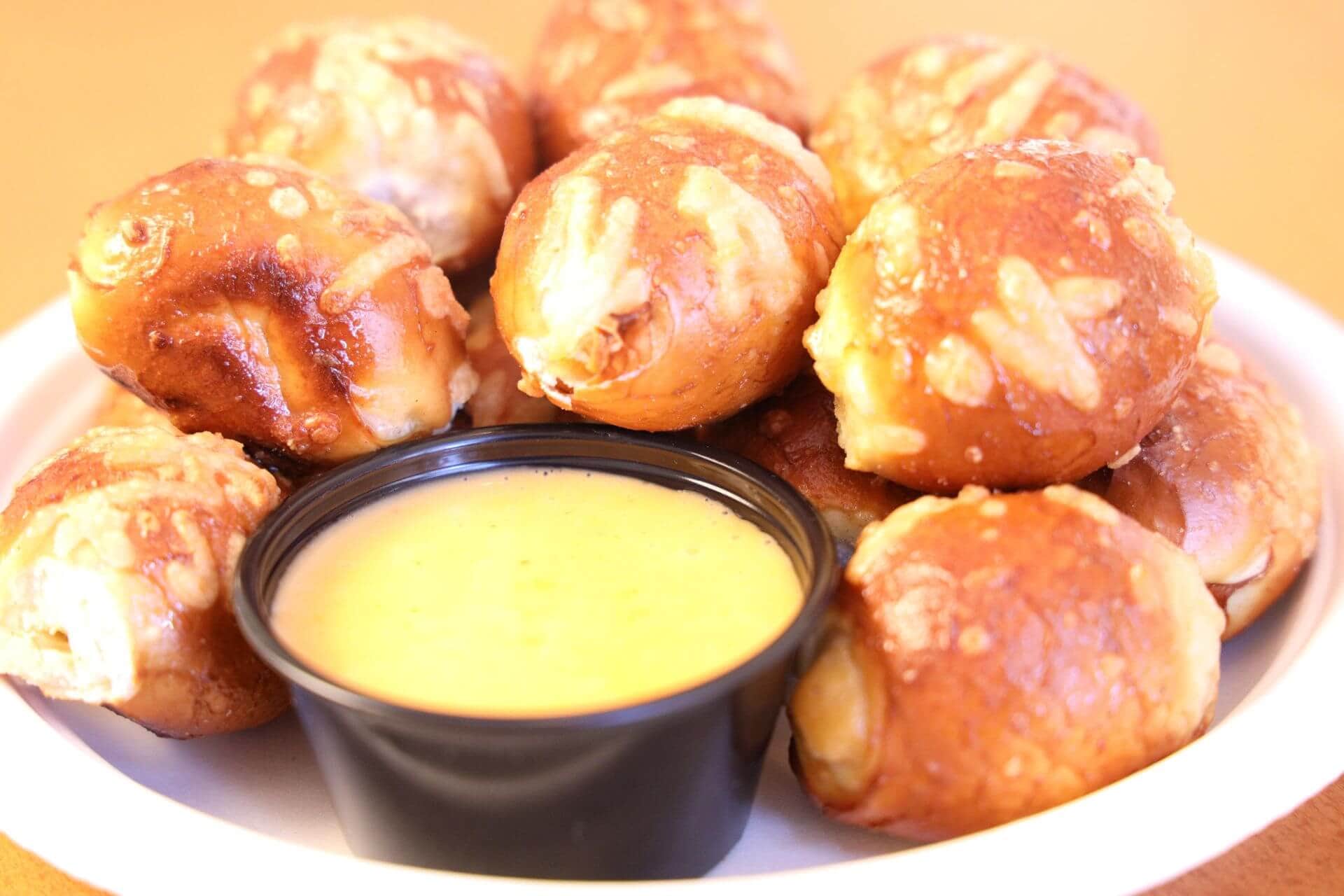 Recipe Name
Hall's Beer Cheese and Pretzel Bites
Author Name
Published On
Preparation Time
Cook Time
Total Time